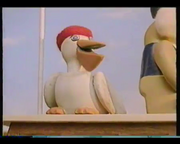 Pete is a conceited pelican. He wears a red beanie. 
He thinks that everything he does is superior to how everyone else does it, but he has a good heart. He is Fred's deckkie (deckhand), and he has a nephew named Percy.
Appearences
Fred Meets Pete, Fred's Birthday Party, Fred's Sister Kate, Pete's Nephew Percy, Fred at the Fairground, Pete the Magician, Fred and the Whales, The Ferry Race, Kate's Lost Bell, Fred the Floating Zoo, Fred Goes to the Doctor, Kate the Painter, Pete the Water Skier, Kate at the Fairground, Fred Joins a Band, Night-Time Noises, Fred's Fishing Trip, Belinda's Blown Bulb and Major Mitchell's Washing
Trivia
In the Portuguese dub, he is called Pedro.
Gallery