"In a country at the top of the world, or the bottom according to your point of view, there's a city that's built around a harbour. So instead of getting around on trains, buses, cars alike, some of the people that live there have to travel in boats, which are called ferries. This is a story about the smallest of all the ferries, whose name is Fred."
— Intro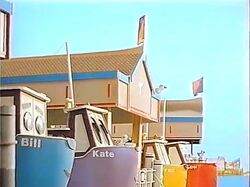 Welcome to The Ferry Boat Fred Wikia!
We have more than 114 pages about anything Johnson - including the Televison Series, the Characters and the Episodes
About • Community • Tutorial • Help pages
If you are new, or old, to our Wikia, be sure to check out Our Rules. Also be sure to check out our announcements, to find out what is happening on our wiki. As well as our current events.
Thank you, The Team - Thomasthetankmoosh,ElsbridgeStationFan1995, Tug97, SamTheAngelFox, Ztar13 and Usthomasepisodes. 
Please create a free account right here.
Excellent Spoofs
About the show
Ferry Boat Fred is an Australian children's TV program which was first broadcast in 1992. The main character is a ferry in Sydney Harbour named Fred , along with his older sister Kate , two other ferries, Lou and Bill , as well as Jean, a really jolly and colourful submarine. There is also The Captain, a Koala who is always found asleep behind Fred's wheel. Fred has a voluntary deckkie (deck hand) named Pete, a "know-it-all" Pelican who befriends Fred and follows him around the harbour, assisting Fred and tying him up at Wallaby Wharf.
Read more here
The Spotlight
Community content is available under
CC-BY-SA
unless otherwise noted.