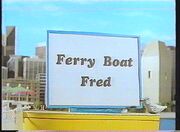 Ferry Boat Fred
 is an
Australian
 children's TV program which was first broadcast in 1992. The main character is a ferry on Sydney Harbour 
named
Fred
, along with his older sister
Kate
, two other ferries,
Lou
and
Bill
, as well as Jean, a really jolly and colourful submarine. There is also
The Captain
, a Koala who is always found asleep behind Fred's wheel. Fred has a voluntary deckkie (deck hand) named
Pete
, a "know-it-all" Pelican who befriends Fred and follows him around the harbour, assisting Fred and tying him up at Wallaby Wharf.
The program was created by Polka Dot Productions, a company set up by the producer/writer John Pye in 1992 with 25 episodes. John Pye, a model maker originally from Dagenham, Essex, UK, grew up watching the classic British children's TV shows, "Ivor the Engine" and "Noggin the Nog" (made by Oliver Postgates Smallfilms). Not only did Pye write the scripts and the incidental music, but was also responsible for making most of the models, he also wrote the Ferry Boat Fred book. The entire series was filmed by Pye and three friends in a loft in the inner Sydney suburb of Surry Hills. The series is narrated by Jack Osborn, who also provides the voices.
Episodes
Credits
Opening Credits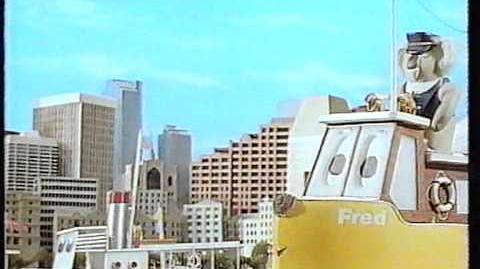 References
External Links